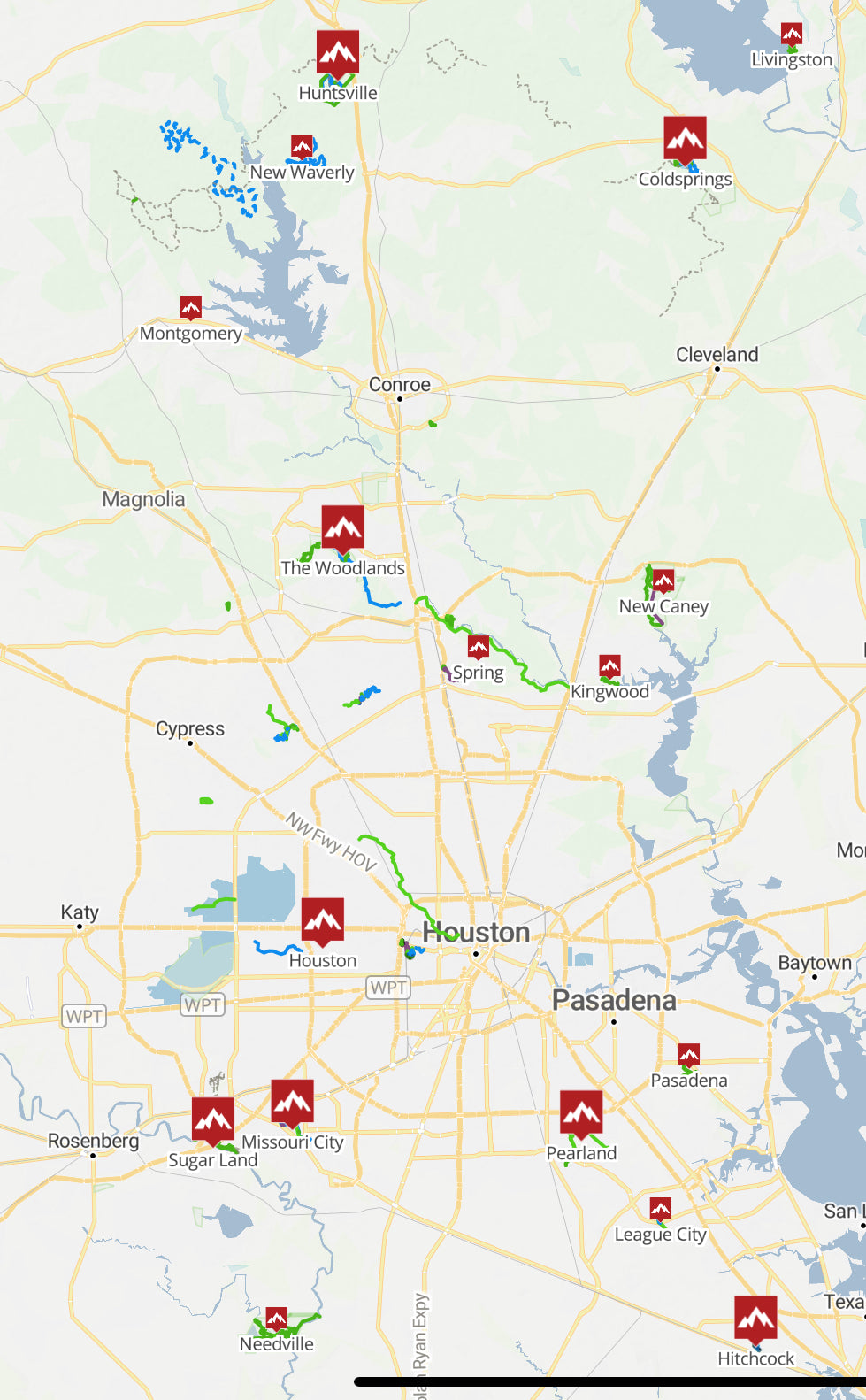 Local Trails / Where to Ride!
We are flat but we are also blessed to have opportunities to ride fun trails in the greater Houston near the various creeks that flow into the lakes and the gulf
This map comes from trailforks.com (you can also download the app). It gives you a map of trails near you and other useful info. Project MTB is another option that some use.
Keep reading below for a short description of trails we enjoy.
Also all the trails have facebook groups you should join so that you know when trails are closed (due to rain) or other trail info and connect with other community members!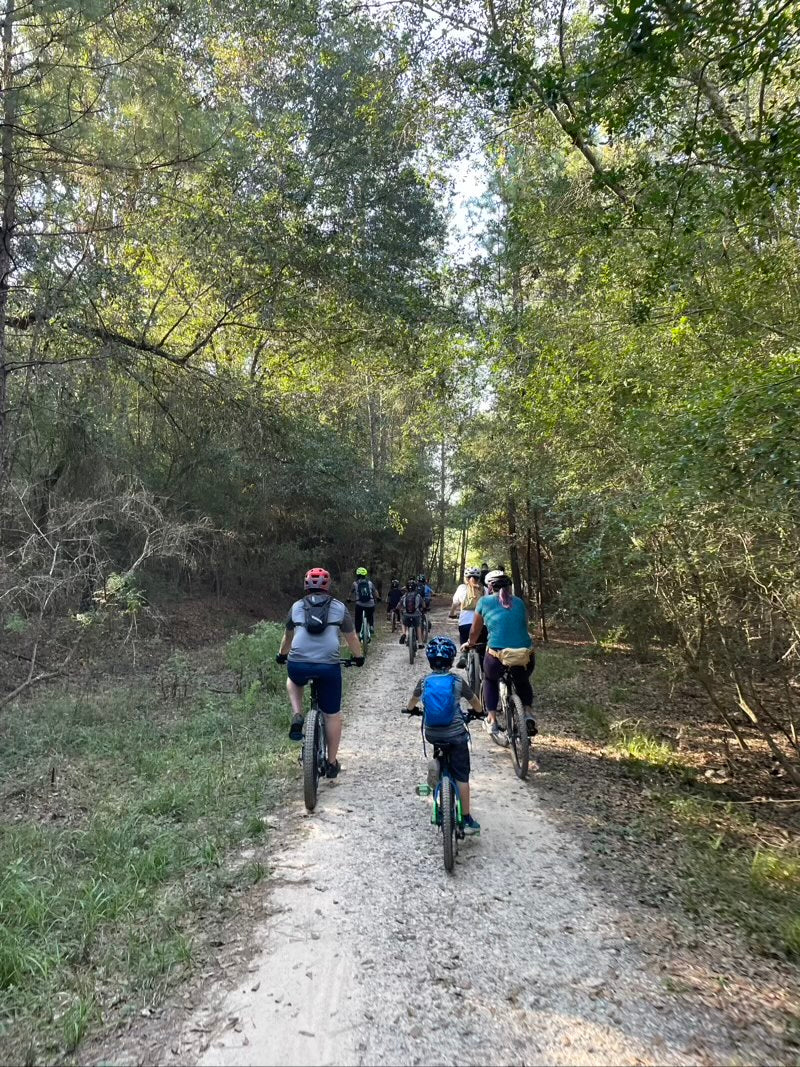 Group Rides
Tuesday Night rides at Cypresswood. Meet in trek parking lot at 6:15 (wheels down at 6:30)
Thursday Timberlane Thriller: Night ride that happens periodically, stay tuned on their facebook page when the next one is
Sat morning family rides (at various trail heads). In the past we've done a lot of these and would like to do more when our schedule allows.
Follow us on Instagram and Facebook for notifications when we will do the next rides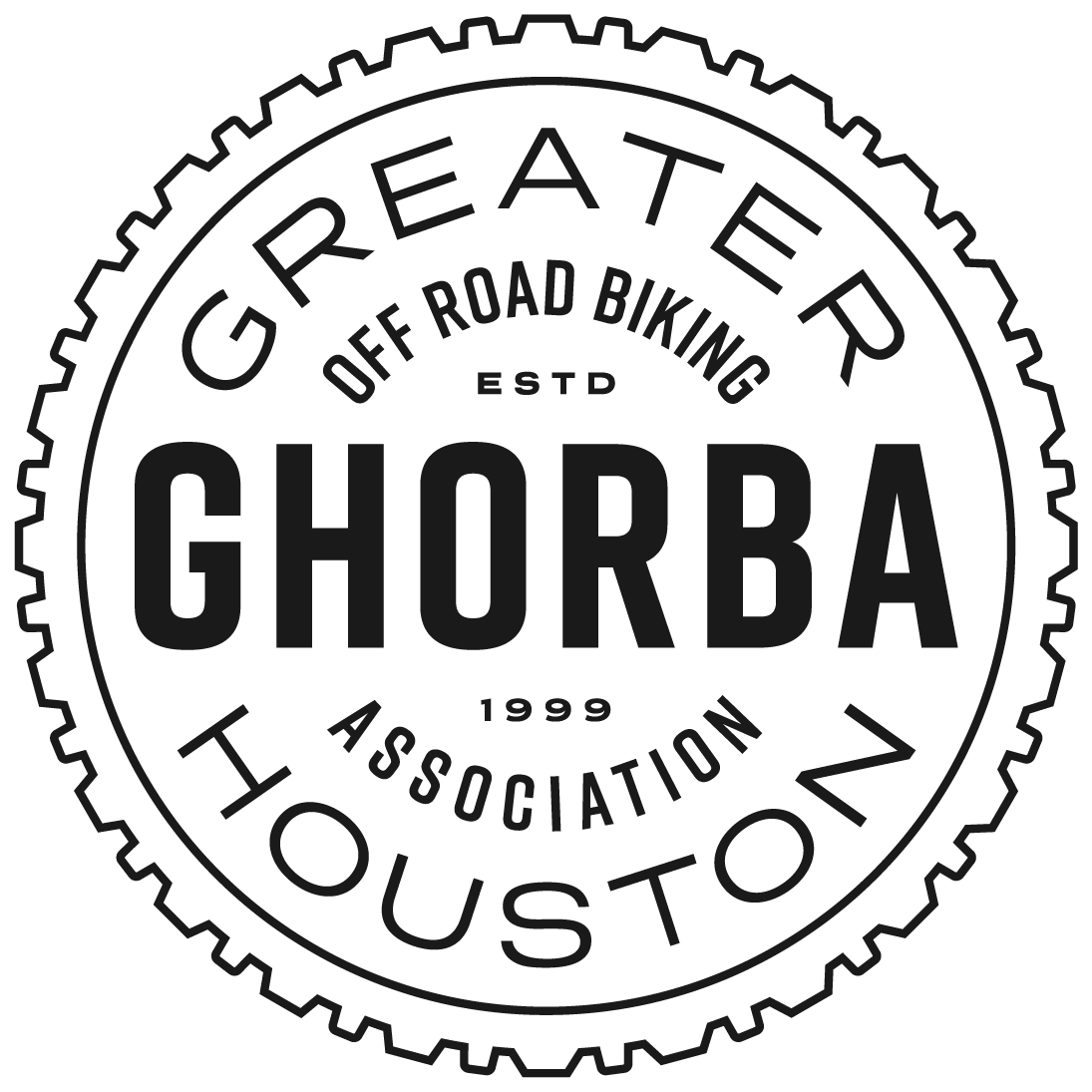 Join GHORBA!
GHORBA is the local non profit that is responsible for building and maintaining all of our local trails! So much time and resources have been put into the trails by volunteers and generous donors over the years. Please join.
Also, now when you join you get a yearly SPOT insurance coverage which gives you $25k $0 deductible supplemental insurance anywhere in the USA while riding your bike!
Link to GHORBA
Houston Area Trails (North to South)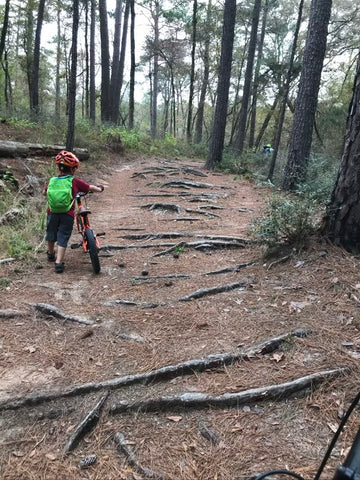 Huntsville State Park
You can camp next to the lake and jump on the trails. Lots of roots, a little elevation and distance for some kids but it is family friendly and remote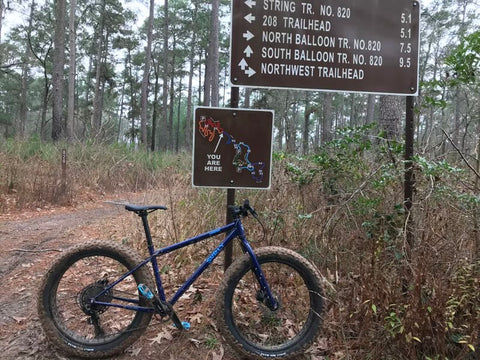 Sam Houston National Forest
Many miles of trail that is single track and double track but it is multi use so dirt bikes and horses are allowed.  I do not recommend on a normal bike but a lot of fun on an ebike or fat bike due to the sand and conditions
Carl Barton
Some easy family friendly trails around the park.  Not much distance from what I remember but if you live in the area, go check it out.
Double Lake
A fun trail with camping available as well.  Family friendly and a beautiful forest single track ride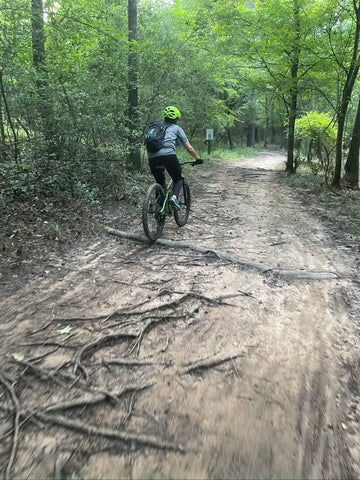 George Mitchell Preserve/Burroughs Park, Flintridge/SCNT
Lots of miles of trail right in the Woodlands.  Lots of different start options depending which park you want to start at.  Single track and double track.  If you have the legs you could ride from Burroughs Park all the way to Pruitt Road north of Exxon campus.  Family friendly trails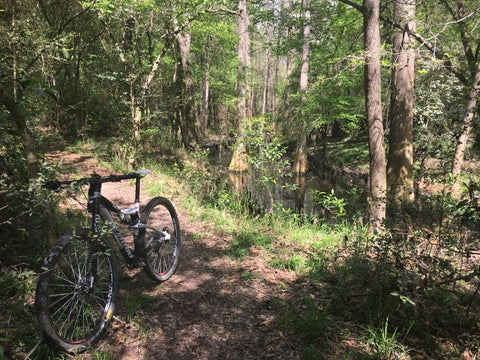 Lake Houston Wilderness Park
Not a well known trail but fun nonetheless if you are in that area.  Good for families and kids for part of it.  Trails not super well maintained but potential for some good miles if you want to explore.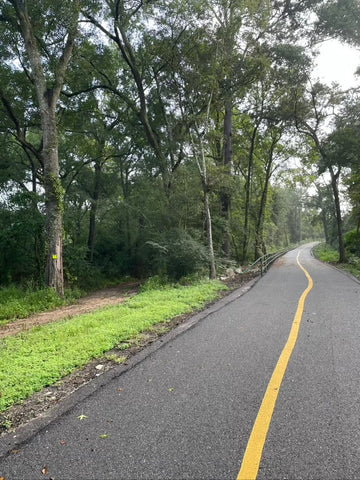 Spring Creek Greenway (paved)
Great ride if the trails are wet or you are just getting back into cycling or introducing your family to cycling and don't want to have to deal with cars.  You can ride from I-45 all the way to Humble/59 if you want and now the newly opened section just West of Exxon Campus all the way to Rothwood Park.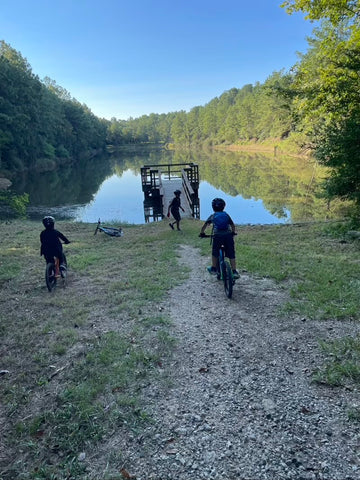 Timberlane
Nice trail that doesn't have a ton of miles but one of our favorite family and kid trails.  It has kid friendly singletracks, some jumps, and paved trail if needed or short on time back to the car.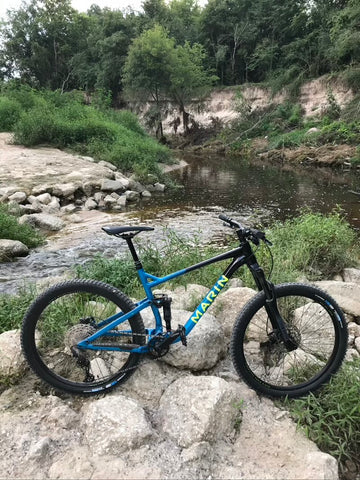 Cypresswood
The 1st trail I rode when we moved to Houston in '08.  It's changed a lot over the years but still one of my favorites.  Good variety of singletrack, a few features and jumps and a fun ride at night.  Kid friendly for most of it.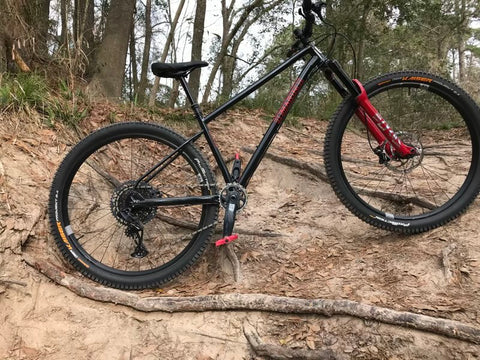 Cypress Creek (CCMTB)
One of the most popular Houston area trails.  Lot of features, jumps, hidden jumping areas.  A bit confusing to find out where to go but lots of areas to explore.  I don't recommend for beginners or kids however until you get some experience on the easier trails.  
Bridgeland
Newish trails that are popular and mainly designed for the residents of Bridgeland.  Good amount of area with an active community that builds and maintains, good support from the builder and they are expanding to the West side of 99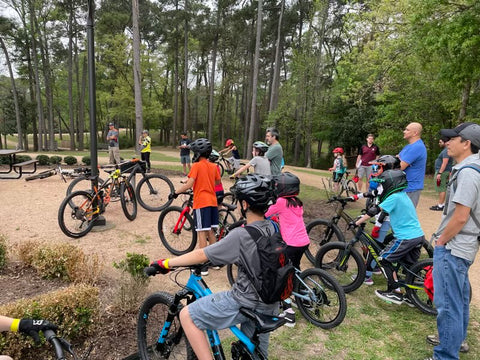 Jim and JoAnn Fonteno Park
New trail on the East belt that has a fun skills area and some fun single track.  More being built so join their facebook group for upcoming details and trail work parties
Anthills
Another popular trail that features a variety of single track and is well known for its jump section right in the heart of west Houston area.  
Memorial Park
Fun trail right in the heart of memorial.  Lots of roots and a bit confusing to navigate but still fun.  Lots of other trail users so watch out for hikers especially on  the weekends.  
Pasadena
Haven't had a chance to investigate this trail.  Doesn't appear to be too long but if you're in the area or know the trail, let us know!
Pearland
Haven't ridden here either but looks promising and fun.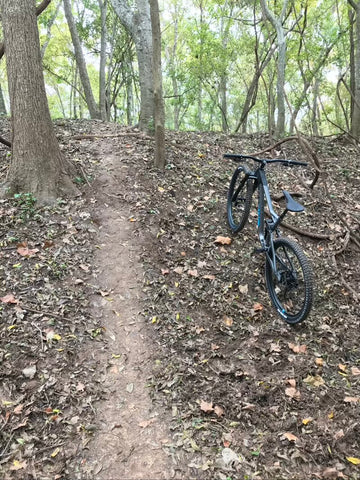 Sugarland
Great and popular trail system that is built and maintained by their own trail organization.  Lots for everyone from beginner trails to more advanced features and jumps
Brazos Bend State Park
Calm easy paths in the state park.  Just keep your eye out for gators!
Jack Brooks
  If you survive the Banana Spiders here, you'll be rewarded as a "spider rider".  No joke, I've ridden this trail once and the spiders basically won and forced me to abandon my ride.  From what I've heard, lots of fun features and trail.